In a bumper cricket weekend at Deutweg, the WCC won three out of four Pickwick T20 matches played in two days (18-19.7.2020), to take them joint top of the Eastern Division.
With 3 out of 4, some would say that was even better than Meatloaf!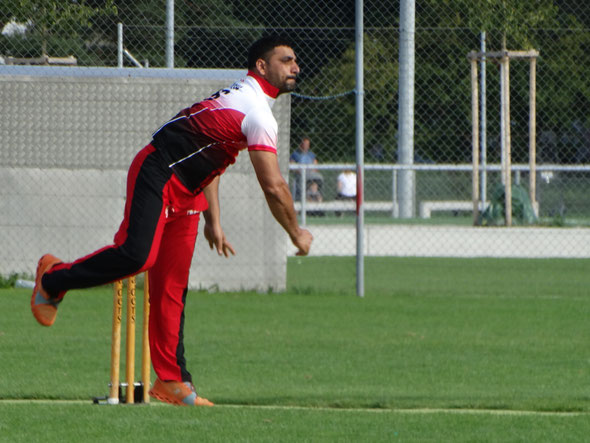 On Saturday the WCC faced the Zurich Crickets 1st & 2nd XIs in two successive games.
Match 1 - Zurich Crickets I XI 132-5 in 20.0 overs (N Ahmadi 68) beat Winterthur Cricket Club 117-9 in 20.0 overs (R Ramanathan 23; G Santhirasekeram 4.0-0-30-3, E Raveendran 4.0-0-29-3) by 15 runs
Full match scorecard

In a low-scoring match, the first game on Saturday, didn't go Winterthur's way. Noorkhan Amadi (68) with a solid innings enable the Zurich Cricket 1st team to reach a defendable total.
Winterthur were the architects of their own defeat in this match, choosing to go aerial rather than pace their innings. The result was seven catches and the middle order being dismissed for just 9 runs. Roga Ramanathan (23no) & Keramat Tarakhel (22no) staged an amazing recovery but it proved just a little too much to do, Winterthur falling 15 runs short.
Match 2 - Winterthur Cricket Club 205-3 in 20.0 overs (A Kumar 47, M Gnanesagaram 61, P Shikare† 72no) beat Zurich Crickets II XI 108-8 in 20.0 overs (G Chetty 33, A Hassani 28; S Sivakaran 3.0-0-25-3) by 97 runs
Full match scorecard

The second game was an easier affair from a Winterthur perspective. With the exception of S Ahmadzai (1), Winterthur's top order Aayush Kumar 47, Murali Gnanesagaram 61 & Prafull Shikare† 72no, performed brilliantly with the bat, setting the young Zurich Crickets II XI side an ambitious target score of 206 to win.
Gokuldas Chetty (33) & Asadullah Hassani (28) batted well for the young crickets, but with no-one else reaching double figures, they eventually finished 97 runs short. Shaktheeswar Sivakaran (3.0-0-25-3) was the pick of the Winterthur bowling, taking three wickets early in the match.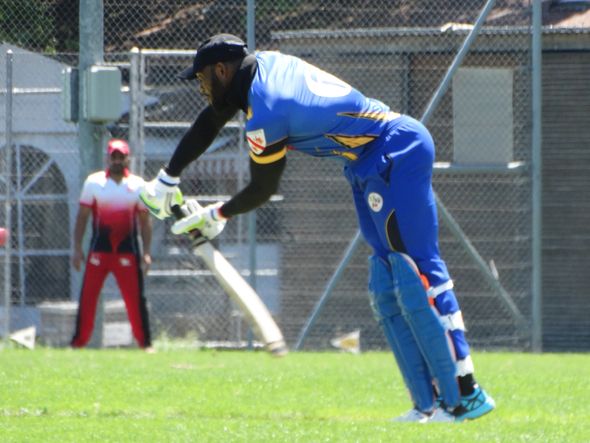 Two potentially tough matches against ground-sharing Power CC and then St Gallen, faced WCC on Sunday.
Match 3 - Winterthur 205-5 in 20.0 overs (S Ahmadzai 62, M Gnanesagram 64, P Shikare 36; A Rana 4.0-0-53-3) beat Power 140ao in 20.0 overs (A Sikander 25: A Rana 64; Ayush Kumar 4.0-1-28-3) by 65 runs
Full match scorecard

More fantastic sunshine greeted the two teams for the first game on Sunday. Winterthur's S Ahmadzai (62) and M Gnanesagram (64) put on a second wicket stand of 90 runs, while P Shikare (36) continued the good work coming in at number 5 setting a good score of 205 in their allotted 20 overs.
Power didn't start well. Big hitter Osama Mahmood (0) was run out not facing a ball and their captain Sajid Sufiat was dismissed for a duck one ball later, making the task ahead even more difficult. But Abdullah Rana (64) was the game of his life performing with the bat as well as the ball. Fortunately for Winterthur it was only Kenardo Fletcher (20) & Asad Mahmood (18) that offered any other resistance with the bat and Power fell 65 runs short of the total, dismissed all out in the 16th over.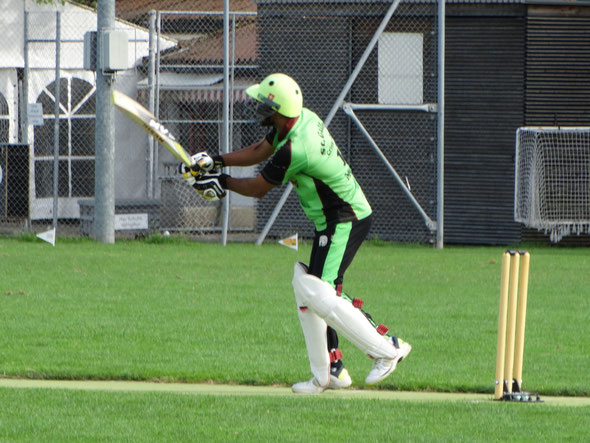 Match 4 - Winterthur 181-7 in 20.0 overs (P Shikare 71; I Ali 3.0-0-34-2, M Ahmadzai 4.0-0-25-2) beat St Gallen 123-9 in 20.0 overs (N Mahmood* 39, W Waqar 31, A Kumar 4.0-0-17-2, M Gnanesagaram 4.0-0-14-4, S Cheema 2.0-0-11-2) by 58 runs
Full match scorecard

The second game on Sunday continued in the blazing sunshine and absolutely perfect cricketing conditions, this time against St Gallen.
Again it was Winterthur that set the stage with a good 181 for the loss of 7 wickets in their allotted 20.0 overs. The WCC top order all scored double figures, but it was Winterthur's wicket-keeper, Prafull Shikare (71) that set the standard with his second half-century of the weekend.
In response it was the two ex-Winterthurian's, Nasir Mahmood (39) & Muhammad Waqar (31) that provided some hope to the most eastern team in Swiss cricket, Winterthur's Murali Gnanesagaram (4.0-0-14-4) taking both the key wickets.
St Gallen were never able to keep with the run-rate and they fell 58 runs short.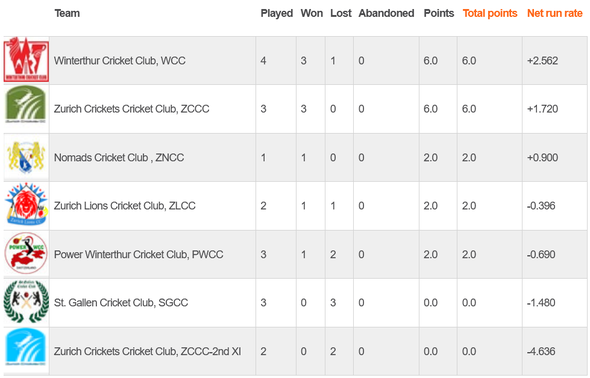 One more win from the remaining two games (against Zurich Lions on 2 August & Zurich Nomads on 9th August) will almost certainly confirm their place in the Swiss Mr Pickwick T20 League quarter finals of this year's national Twenty20 compeition.